Singing Christmas Carols and Potluck Dinner in Yakima
​Saturday, December 16, 4:30 – 7:30 p.m.
At the home of Lisa and Scott Freund at 208 Henry Ave., Yakima.
Scott and Lisa are making Chili.  Here are options for what you can bring: corn bread, salad, dessert, veggie side dish
PLEASE RSVP TO THIS EMAIL.
Happy Advent to all.  Check out Lori's article on Advent:
http://www.catholiclifeministries.org/2017/11/29/intentional-advent-making-space-for-the-christ-child/
 Christmas Caroling at Mt. St. Vincents, Seattle
Please join us on Sunday, December 17, 1:30 – 3:30 p.m. for caroling at Mount St. Vincent Retirement Community (35th Ave. SW, West Seattle).   We will begin AT THE ST. JOSEPH RESIDENCE behind (west side) Mt. St. Vincents.
At 3:45, when caroling is over we will have a potluck dessert in the 2nd floor lounge of Mount St Vincent (east side of the building above the entrance).  Please bring a favorite Christmas cookie/dessert to share with others.
Marriage Is Beautiful (and sometimes hard): A Marriage Enrichment Series
Dates:  Monday nights, Jan 22, 29, Feb 5, 12   Time: 7-9 p.m..
Place:  Parish Center Basement  Hall  Cost: $50 per couple ($40 if you register by December 31).  To Register:  Call Robert at 509-731-6012 or email him at Robert@catholiclifeministries.org.
 You will deepen love and friendship through a series of guided conversations facilitated by marriage and family therapist, Robert Fontana.  You will be talking with each other as you learn practical methods to resolving conflict and communicating clearly, tools that will enable you to build a foundation of love to last a life-time.
 "I would recommend any couple to attend Marriage Is Beautiful…it was a short and refreshing time to connect with my spouse and focus on what is important.  It was all good!" 
Robert Fontana is the presenter.  He has been married to Lori since 1978, and has a clinical practice for marriage and family therapy called Relationship Success.
Praying Like a Mystic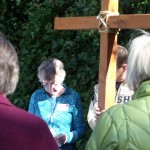 A day of prayer & reflections on what the great pray-ers of the past can teach us today about deepening our love and communion with God, and doing God's will within the circumstances of our lives.
Sunday, April 29, 2017
Presenter:  Robert Fontana
Place: Peace & Spirituality Center,   Time: 9:30 a.m.—4:30 p.m.
 1663 Killarney Way, Bellevue, WA
Cost:  $50 single / $90 couple (scholarships available)
To Register: Send name, email, phone, payment, to CLM, 1827 NE 58th St. # B, Seattle, WA 98105  OR  register online atcatholiclifeministries.org
For more info call (509-731-6012) or email Robert@catholiclifeministiries.org
This retreat is presented by Lori and Robert Fontana and Catholic Life Ministries Northwest.