By Robert Fontana
These are difficult times for Catholics.  It is not easy inviting my kids or neighbors to Mass with me when there is yet another headline about the moral and criminal failure of church leaders: a cardinal who failed to expose a predator priest (DiNardo of Galveston/Houston), another Cardinal who was removed from ministry for being sexually involved with seminarians and who molested altar boys (McCarrick of Washington D.C.); a third cardinal and high-ranking Vatican official who is convicted of molesting children (Pell from Australia); and the Pope's summit on sex abuse that appears to be serious and sincere in its intent, and so weak in its resolve for change.
As we go into Lent, I have an exhausted feeling akin to trying to climb Mt. Everest as I consider the task confronting Catholics: transforming destructive patterns and institutional structures that lend themselves to corruption, undermining what is good, true, and beautiful within Catholicism.  Obviously the worst form of this corruption has been the sexual abuse of children, minors, and vulnerable adults, and its cover-up by clergy and laity alike.  I feel like Frodo from Lord of the Rings as the fellowship traveled through the mines of Moria on the way to Mordor to destroy the one ring of power:
Frodo: I wish the Ring had never come to me. I wish none of this had happened.                                                                            
Gandalf: So do all who live to see such times, but that is not for them to decide. All we have to decide is what to do with the time that is given to us. There are other forces at work in this world, Frodo, besides the will of evil."
Lori and I have felt this same thing, wishing we never knew of sex abuse in the Church., wishing none of this had happened.  But we try to listen to Gandalf's wisdom: "All we have to decide is what to do with the time that is given to us."  So in the "time that is given to us," Lent 2019, with so much that makes us embarrassed to be Catholic, what to do?  I think it is absolutely essential to remind ourselves of the beauty, goodness, and truth of our apostolic faith:
God is love and wants to share that love with every human being regardless of race, creed, color, ethnicity, political party, intelligence, gender, or moral behavior. 
As I read in a wonderful book this week, Mother Teresa's Secret Fire, not only is it God's nature to love us, it is God's joy to love us!  YAHOO!  What an amazing truth, IT IS GOD'S JOY TO LOVE US!  And this is especially true when we don't want to be loved by God, when we want to do what we want to do, building up our petty little kingdoms, fighting our neighbors who are building up their petty little kingdoms.  Doing so, we tend to make everything a great big mess.  But though we often misuse the gifts that God has given us and do whatever we can to block the Spirit from stepping into our world, God keeps trying.  How do I know this?  Look at Jesus and the Holy Spirit (and look at the saints):
We have peace with God through our Lord Jesus Christ, through whom we have gained access [by faith] to this grace in which we stand…because the love of God has been poured out into our hearts through the holy Spirit that has been given to us.  For Christ, while we were still helpless, yet died at the appointed time for the ungodly.  Indeed, only with difficulty does one die for a just person, though perhaps for a good person one might even find courage to die.  But God proves his love for us in that while we were still sinners Christ died for us.  Romans 5:2-8
All the rituals, liturgies, prayer books, religious art, icons, doctrines and dogmas, churches, basilicas, cathedrals,  retreat centers, schools, universities, intellectual treatises and books, charity centers and soup kitchens, etc. have a dual purpose:  to help us love God with all our hearts, minds, and souls; and to love our neighbors.
God has made a covenant of love with the human race (indeed, with all of creation).  We, who are followers of Jesus and temples of the Holy Spirit, are that portion of the human race who have said "Yes" to God's offer of love.  We have responded "Yes" to God, not just for ourselves, but also on behalf of the rest of humanity who has yet to come to an awareness of God's love and offer of a covenant of love.
The clearest sign that we share a covenant of love with our Creator is our own faith life, manifested in loving service of one another and our neighbor, especially all who are poor and marginalized.  This is not the silly, short-lived love of a Hollywood movie or a romance novel, but the demanding love of spouses who care for one another in good times and bad, sickness and health, wealth and poverty, until separated by death.
Corruption in the Church, especially corruption that hides the sexual abuse of children, youth, and vulnerable adults and protects the sexual predators, contradicts all that we Catholics hold dear.  It undermines our credibility that there is any truth to this Gospel message that we  believe is so beautiful and necessary.  My adult children have no trust in the leadership of the Catholic Church.  My extended family members and friends have lost trust in the leadership of the Catholic Church.  And, I must say, my wife and I now have very little trust in the church's leadership.
During this Lent I will carry the beauty of Catholicism, this covenantal relationship between God and the entire human family and all of creation, AND also the betrayal of this covenant within the Catholic community…and I will work to restore trust in this Catholic Church that I love.
_______________________________________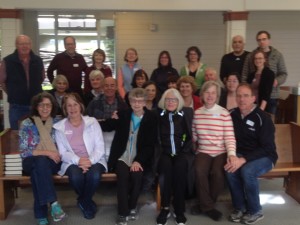 The Work of Restoring Trust: All of us who love the Church have a responsibility to work for restored trust in the Church, trust that has been and continues to be eroded by the sexual abuse crisis.  At the very least, we have to fully practice the message we preach.  How do we do this in light of current events?  This is what I think:
Make friends with survivors of sex abuse. Listen to their stories, believe their stories, and gain their trust.
Educate yourself about sex abuse and cover-up in the Church. Read Betrayal, the Boston Globe's account of sex abuse in the Boston Archdiocese and watch the movie Spotlight.  If it happened in those dioceses, it has happened in yours.
Do not depend solely on diocesan and parish leaders for the facts related to sex abuse and cover-up in your diocese.  An attitude of self-protection is still very prevalent among the church leadership.  As Ronald Reagan said, "Trust, but verify!"
Get on the mailing or email list of: Survivors Network of People Abused by Priest (snapnetwork.org), the Maria Goretti Network (mgorettinetwork.org), Ending Clergy Abuse (ecaglobal.org), Bishop Accountability (bishopaccountability.org), Voice of the Faithful (VOTF). Before you decide to trust fully what Church leaders are saying, listen to their critics.
Get organized. Meet with your Catholic friends, discuss these issues, and act to protect minors and vulnerable adults.  Hold church leaders accountable to do the same.