by Lori Fontana
Twas the week after Thanksgiving and all through the city, Christmas trees UP! Everything lookin' pretty!   The shopping malls strung with bright lights and good deals, Low prices, new products, all for shopper appeal.
 Nintendo and X-box, Cuisinart, Samsung, From Macy's to Walmart, don't forget Amazon. There's Banana Republic and also Mattel.  There's jewelry, new cell phones, and all is on sale.
Now, grab this, now buy that, it's such a great bargain. On debit, on credit, and   other such jargon.  We rush here and rush there, from store to store, In a searching frenzy for that one gift more…
Ahhhh, Christians, it's Advent! But aren't we trained otherwise?! We've barely set down our forks from the last bite of turkey (or perhaps, as in my family, tofurkey!), and we are off to Black Friday sales, long wish lists in hand.
Indeed, there are many appealing facets to the commercialization of Christmas. In this darkest, coldest season of the year, the twinkling lights, glittering ornaments,  familiar songs, and favorite symbols delight us and warm our spirits. The trees,  crèches, Santas, candy canes, gingerbread houses, and sugar cookies tap into our memories from childhood, memories that may be embellished over time so that we truly believe that this is "the most wonderful time of the year."
The church would heartily agree that we are approaching a marvelous feast day, a day of great celebration—Christmas! But it is in the preparations for this feast that church and society diverge a bit.
I confess, I've been humming along with "Frosty the Snowman," floating over the aisles of the Walgreen's. I am drawn to the glow coming from strings of tiny white Christmas lights, and I inhale deeply, and with a sigh of pleasure, the fragrances of freshly-cut pine, cinnamon and peppermint. But I am also very conscious of a deep desire to spend the lovely season of Advent doing some serious preparation for Christmas, which is first and foremost, the celebration of the birth of Jesus.  And if I do have a firm plan in place for my observation of Advent, I know I will get lost in the swirl and glitter of the commercial holidays, and I will have missed out on the graces of Advent.
Our church has shown great wisdom in pairing our great religious feasts with a preparation time of prayer and fasting. We have Advent before Christmas, Lent before Easter, the Friday fast   before Sunday – the day of the Resurrection. Our Orthodox brothers and sisters have the practice of very strict fasting and abstinence before all the important feast days, when they celebrate great saints and important events in the life of Jesus.
The purpose of fasting is to make room for the feast. If we are already full to the brim, with parties, presents, and rich holiday treats, the Christmas feast is just another day. I do love the festivities of Christmastide, but I want to create space in my body, mind, and spirit so that I can celebrate fully the feast of Christ's coming.
How can I do that—make space in my life to let Jesus in? I have a few ideas. My first step is to be intentional. I need to make a plan. Otherwise, I know I will hurtle through these weeks of Advent, with little awareness of "fasting." The plan needs to be concrete and measurable, and most of all,  do-able. How can I make some room in my life for the Christ Child?
In this busiest time of year, can I give 10 – 15 minutes a day to silent reflection? Can I light a candle, gaze at a picture or icon of Madonna and Child, be still? It means turning off the phone, the radio, the TV, the computer…just for 15 minutes, every day, to create that empty space.
I like to listen to the radio, when I'm driving, when I'm working around the house. Can I turn off the radio and be in the silence as I work or as I drive? Can I pray    during those times, or sing Christmas carols softly to myself? In the space created by quiet, can I meditate on the mystery of Christmas? Can I listen for the prompting of the Holy Spirit? It is hard to hear the Spirit amid all of the holiday noise. Can I open up a little space for the Spirit's wisdom, encouragement, and  guidance?
I also recommend praying with the Advent wreath. It can be very simply made – 4 candles, 3 purple, 1 pink; or 4 white candles marked with purple and pink ribbons. Advent wreath prayer booklets are available from  Christian shops and online, and, perhaps, from your  parish. Children love the ritual of lighting the candles each night of Advent, singing a carol, pausing for moments of prayer and reflection. It's a lovely Catholic / Christian tradition that creates a peaceful space in our day and draws our focus to Christ.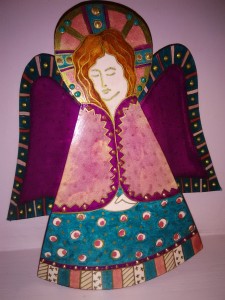 By obsering Advent, we interrupts the secular Christmas celebration. Advent says, "Wait a minute," or really, "Wait four weeks. Choose some form of fasting to make some space.   Christmas will come, in all its marvelous glory, but we Christians are going to wait to celebrate." I pray for a peace-filled time of "fasting" during our season of Advent so that we can all celebrate with joyful gusto the feast of Christmas.
Please post your comments and any suggestions you have about observing Advent.