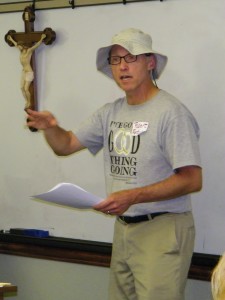 Sunday homily, Nov 19
Jesus told his disciples this parable: "A man going on a journey called in his servants and entrusted his possessions to them.  To one he gave five talents; to another, two; to a third, one–to each according to his ability.  Then he went away.
After a long time the master of those servants came back and settled accounts with them. The one who had received five talents came forward bringing the additional five. He said, 'Master, you gave me five talents. See, I have made five more.' His master said to him, 'Well done, my good and faithful servant. Since you were faithful in small matters, I will give you great responsibilities. Come, share your master's joy.'"
Well done, my good and faithful servant!   When I raise my hand would you repeat those words?
Good morning, Church.  In today's Gospel parable Jesus is telling us to go out and invest in the stock market.  Right?  Everybody say wrong.  No, Jesus is reminding us through this story that he has a purpose for our lives. And, OH NO, IT IS A PURPOSE FROM WHICH WE CAN NEVER RETIRE. Most importantly, Jesus has given us the gifts we need to fulfill that purpose.  Jesus has called us together. He is with us right now, and he is telling us today what the master told his servant in the parable:
Well done, my good and faithful servant! 
The key to a proper interpretation of Jesus' parables, and, indeed his whole life, is the concept of the "Kingdom of God."  What is the Kingdom of God?  The answer is really very simple, and we say it every time we pray the Our Father.  We pray "hallowed by thy name, thy kingdom come, thy will be done on earth as it is in heaven…"
There it is…so simple and clear…the kingdom of God is about God's will being done on earth—within our marriages, families, work commitments, neighborhoods, jobs, businesses, and political structures.  Jesus' mission was to make the kingdom happen by doing God's will on earth two thousand years ago.
Our mission as Jesus' followers is to make the kingdom happen by doing God's will today.  Yes, God wants us to be successful at work, at home, in civic life, and here at the parish, not to build up our own little kingdoms, but together to build up God's kingdom.
This is so important that we have even have patron saints upon whom we can call for help for every job imaginable.  We have patrons saints for butchers, bakers, bell-makers, beggars, candle makers, grave diggers, woman or man seeking a spouse, dentists, doctors, lawyers, politicians, beer makers, students, Italian prison officers, and, of course, anyone seeking a lost golf ball or car keys, to name a few.
Well done, my good and faithful servant!
Ultimately, to be gifted by God for the kingdom means to be gifted by God for love. Yes, we need to be competent at what we do, but more importantly, we are to infuse what we do with love, the self-giving love of Jesus, of the saints, and of our grandparents and parents.  As the popes have taught, ours is a vocation of love.
This vocation begins in Baptism.  Today at this liturgy, these beautiful babies, new disciples of Jesus, receive their call to a vocation of love.  As they grow they will discover certain qualities and talents given to them by God that will enable them to succeed at a career or job.  But their deepest calling as disciples of Jesus is to do all that they do with love.
Well done, my good and faithful servant!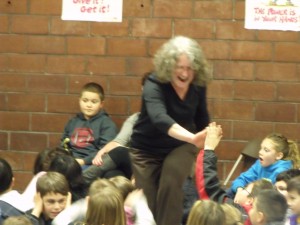 For example, if you are a teacher, you know that being a Catholic follower of Jesus means more than just imparting knowledge to students; it's especially about loving and caring for each student in his or her uniqueness.  As a long-time school teacher told me, "Students don't care about how much you know until they know how much you care."
The same is true with parishioners.  Parishioners don't care how much Father knows, until they know how much Father cares.  Fr. Jack isn't successful here because he is an excellent homilist, though that is true, or a capable administrator, though that is also true.  He is successful here because you (and I) know that he loves us.
The same is true for all of us whatever we do within the daily commitments and relationship of life.  What is important is not simply doing a competent job with the task at hand, but being a witness for the Kingdom by doing each task with love.  As we get older and enter the so-called "golden years," we may retire from our jobs, but we never retire from the kingdom.  The clearest example of that for me is my 87-year-old mother-in-law who lives at the Mount.  Paula wakes up every day with purpose, to get out into the Mount community, alert to anyone who needs a friend.
You and I have been gifted by God to succeed in the world for the sake of the Kingdom, a Kingdom of love. We will not love perfectly; we will not love all the time; we will make mistakes and fail at love.  But we don't give up; we keep trying to find a way to love.  That's why we come to Mass, to find strength from Jesus and one another, to continue living out our Baptismal vocation – to love!
Well done, my good and faithful servant!
Please post your comments.