by Robert Fontana
I know, most people are getting excited about "All Hallow's Eve" or Halloween. I do too, but I see it as part of a three-day celebration to honor the saints and pray for our beloved dead.
I have to admit that, in my Catholic fundamentalist days, I did not have a very favorable view of Halloween.  I   accepted the judgment of the evangelical Christians who see Halloween as a celebration of "evil," with dressing up as scary creatures that represent the world of darkness who oppose God.  It is also a high holy day for practitioners of   Wicca, a modern natural religion that rejects Judeo/Christian monotheism.
I have a different view of Halloween today.  If it is any threat to Christianity, it is because the day has been totally secularized and commercialized, separated from its Christian roots.  Just as Mardi Gras (Fat Tuesday) helps us step into Ash Wednesday and the Lenten season, Halloween comes before the Feast of All Saints and the Solemnity of All Souls to help us step into the season of "remembering."  As the earth in the Northern Hemisphere moves into a period of dormancy and cold, this is a transitional time, a "thin place" so say the Celts, for us to remember our beloved friends and family members who have moved from this life to the next.  But we Christians do not remember our dead like people who believe earthly existence is all there is:
"We do not want you to be unaware, brothers, about those who have fallen asleep, so that you may not grieve like the rest, who have no hope. For if we believe that Jesus died and rose, so too will God, through Jesus, bring with him those who have fallen asleep."
1 Thess 4:13-14
The fall trilogy of Halloween, All Saints, and All Souls helps us enter into this season of remembering our beloved with hope that they are now fully alive in God the Father, Son, and Holy Spirit, in communion with all the angels and saints.
Consider this: On the days leading up to   Halloween, you and your children/grandchildren are preparing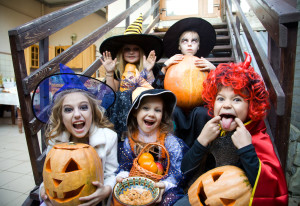 costumes for "trick or treating," and decorating the house to welcome "trick or treaters."  How beautiful, the giving and receiving of hospitality and kindness, one neighbor to another.  In the letter to the Hebrews the author encourages all:
"Do not neglect hospitality, for through it some have unknowingly entertained angels." Hebrews 13:2
You are having a fun event with neighbors and friends and anticipating the next day's celebration, the Feast of All Saints, which focuses on the great women and men of the church who made hospitality a way of life in imitation of Jesus.
On the Feast of All Saints, you want to keep the celebration alive especially for the children.  Remember, if an event at church is not also celebrated in the home, then its significance to everyone, especially the children, is greatly minimized.  Serve a family breakfast that continues the fun from the night before, e.g. put some vanilla ice cream on pancakes or waffles.  This can be done before or after Mass, but the key celebration, of course, is when you gather with the rest of the faith community around the Eucharistic table to hear the story of the Beatitudes and receive the Body and Blood of Jesus.  Now you have really transformed secular Halloween from a commercial distraction to get parents to spend money on candy and costumes to an event of faith connected to being a disciple of Jesus.  You are taking your children/grandchildren/selves on an otherwise ordinary work day to join with other disciples to be with Jesus present in the community, the Scriptures, and the Eucharist.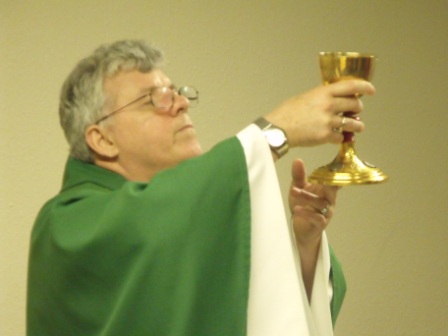 On this Feast of All Saints, you will continue the unique remembering that we Christians do every time we gather at this banquet table: we remember the love of God poured out for us in Jesus and the Holy Spirit.  This is the day we also especially remember that thousands upon thousands of unnamed followers of Jesus, including our parents and grandparents, uncles and aunts, who are not on the calendar of saints, are, nonetheless, saints.  At some churches parishioners are invited to write the names of loved ones who have died in a book of memory on display in a place of honor.  We gather in prayer to commend them to God, and our prayer continues to the next day, the Solemnity of all Souls, and throughout November.
Lori and I take out photos of our parents, grandparents, relatives, and friends who have died and display them prominently near our dinner table so that we pray for them every time we gather for a meal and say grace.
November is the season of remembering.  Halloween, the Feast of All Saints, and the Solemnity of All Souls form a wonderful trilogy of days that helps us enter into the season of remembering with great hope.  Oh boy!
Post your comments!