Joy and peace, dear Catholic family, clergy and laity,
How much do you love the Catholic Church?  That question comes up again as I grieve the death of a great woman, Barbara Blaine, the founder and president of SNAP (Survivors of People Abused by Priests).  Barbara never knew that she was the reason that  Lori and I asked ourselves the above question as the sex abuse crisis unfolded before our eyes in 2002.  She, unknowingly, helped us reaffirm our love for this Church of saints and sinners and get involved with finding positive solutions to the clergy sex abuse crisis.
Yes, the Church is comprised of saints and sinners which does not describe two separate categories of people but every one us who  gathers for worship at the Sunday Eucharist.  And as a church of sinners becoming saints there have been times when we Catholics were less of a light of God's love and mercy and more of a force for darkness, as in the Church's treatment of Jews throughout its history, the Spanish Inquisition, and the current crisis of clergy sex abuse.
A great 20th-century Catholic intellectual, Romano Guardini. who refused a cardinal's hat offered by Pope Paul VI, wrote:
 " The Church is the Cross on which Christ is always  crucified. One cannot separate Christ from his bloody, painful Church." 
What Guardini apparently meant by this is that, because the Church is immersed in the affairs of human society and led by fallible humans,  she has betrayed her fidelity to Jesus and the Gospels.  Therefore, the Church will always need some church members to love her enough to bear the suffering required to guide her back to faithfulness.
I thought I was such a person, I thought that I loved the Catholic Church enough to help her become a more authentic follower of Jesus.  Thus, I, with Lori, worked to end abortion, marched against nuclear weapons, lived low-income to befriend the poor, practiced    Natural Family Planning, and raised our many children Catholic.  Early in our marriage we were honored by the Knights of Columbus in our Maryland parish as "Catholic Family of the Year."  
But there was one issue which I avoided, one issue in which I did not want to participate: the clergy sex abuse crisis. The crisis exploded onto the national scene in 1984 in my hometown when the egregious and criminal behavior of Fr. Gilbert Gauthe was uncovered.  Lori and I had worked with Gauthe on a confirmation retreat.  He    allegedly molested over 130 boys.  I knew the bishop and his associates who protected Gauthe and failed to reach out to the victims and their families.  As new incidents of other priests abusing came out in the late 80's and 90's, I kept it all at distance.  I did not want to get involved.
Mea culpa, mea culpa, mea maxima culpa.
When Boston's Catholic community imploded and diocesan leaders across the country were exposed for protecting clergy sexual predators, I had a "come to Jesus" moment.  I was deeply, deeply convicted that I was part of the problem because I refused to get involved.  I knew what getting "involved" would mean: demanding the truth from my friend, employer, and bishop at the risk of losing his friendship, my job, and institutional support for my work in ministry.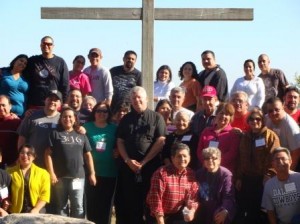 I remember in prayer hearing Jesus asking me, "How much do you love the Church?"  I understood what He meant: someone who loves the Church must bear the suffering for helping her do the right thing.  I  realized that, so far, change in the Church had only come because of the victims who demanded change through media pressure and lawsuits.  We faithful Catholics sat in the pews and dismissed the victims / survivors as, at best, agitators who would never be satisfied and, at worst, liars. 
Lori and I discussed and prayed and agonized.  We came to this crossroads: we can walk away from the crisis, but then we must leave the Church because we as Christians could not in good faith stay in the Church and remain silent and uninvolved. 
How much do you love the Church? 
If you have not done so already, please read the article on Barbara Blaine (http://www.catholiclifeministries.org/2017/10/03/barbara-blaine-21st-century-st-joan-of-arc/ ) and get involved.  Let's not leave it to the victims / survivors of sex abuse in the Church and their families to do our job in demanding that church leaders act in just, honest, and compassionate ways.
In the Lord,
Robert