By Robert Fontana
From the Research:  Marriage is good for sex.  I know, it's counter-intuitive.  Don't all the jokes describe marriage as the end of great sex?
Charlie: I used to have a great sex life.  Mack: What happened?
Charlie: I got married.  Mack, do you know what kind of food kills romantic love?
Mack: No, what. Charlie: Wedding cake.
Mack: Hey, isn't this your honeymoon?  What are you doing out here on the golf course?  Charlie: I gave my bride a choice between lovemaking and letting me play golf; here I am.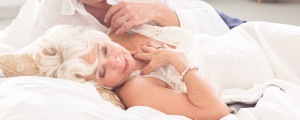 Interviewing hundreds of couples across that U.S., researchers determined what great sex is and who is having it.  Great sex is sexual intimacy that both partners consider to be frequent, enjoyable, creative, and meaningful.  Researchers compared the sexual behavior of three categories of couplings: married, co-habiting, and singles, including those who are divorced and widowed.  MARRIED COUPLES WERE THE BIG WINNERS!
Couples who are married have almost as much sex (2 x's a week) as their co-habiting counterparts (2 – 3 times a week), and way more than singles who have to work really hard and spend money to have a steady sexual partner.  Frequency is the only category in which married couples lag slightly behind.  Couples who are married are having far more enjoyable, creative, and meaningful sex.  These outcomes are attributed to one significant factor that differentiates married sex from other forms of sexual coupling: COMMITMENT.  Commitment is sexy.  When couples have made a commitment to one another as when they become engaged and/or get married, then sexual enjoyment, creativity, and meaning all skyrocket!  This should not be a surprise.
Married sex is more enjoyable because when two people feel safe, when each knows the other is not going to leave when things get tough, they are able to relax and fully enter into the sexual experience.  Married sex is more creative than other partnered sex because spouses get to practice over the years what feels good and enjoyable; and they are able to adjust as circumstances change.  And lastly, married sex is more meaningful because it means a couple's wedding vows: "I will be true to you in good times and in bad…I will love you and honor you all the days of my life." (Hard to beat that for "meaningfulness.")
Married Sex and Faith –   Sadly, due to a variety of reasons, some people of faith have a hard time enjoying the sexual pleasure that is inherent in spousal physical intimacy.  A spouse may have been taught, as was my mother, that sexual pleasure is a sin.  Mom told me that her mother told her, "It is a sin for a woman to enjoy sex in marriage."  I think I may have carried some of this bias into the raising of my children because at times I was not fully comfortable talking with them about sexuality.
Recently a woman attending a retreat for couples that Lori and I led confided to the group that she carries a lot of guilt for having sex with her husband.  It was drilled into her by her mother and the church of her childhood that sex outside of marriage was a terrible sin.  What she, as a young girl, had internalized is that "sex was a sin," and she found it hard to be sexually responsive to her husband.  She had also internalized a very negative body image and thought that she was not very attractive, although, in truth, she is a very lovely woman.  Needless to say, she and her husband reported a very difficult struggle in the area of sexual intimacy.
What do the Scriptures and the Christian faith community teach about sexual pleasure?
SEXUAL PLEASURE WITHIN MARRIAGE IS AWESOME!  ENJOY!
Okay, that is not a direct quote from Scripture or Church Tradition, but considering the materials available, listed below, I think it is an apt summary:
the Book of Genesis in which the writer describes God as being very pleased with his creation of man and woman who come together as "one flesh" and are commanded to "go and multiply" (Genesis 1:27-26, 2:2).
The Song of Songs (in the Catholic Bible but not the Protestant one), which is a poetic celebration of erotic love.
Paul's admonition, "Do not deprive one another except for a set time, to devote yourselves to prayer…" (1 Cor 7:5).
and good Pope Francis who writes: Sexuality is not a means of gratification or entertainment; it is an interpersonal language wherein the other is taken seriously, in his or her sacred and inviolable dignity…In this context, the erotic appears as a specifically human manifestation of sexuality…A healthy sexual desire, albeit closely joined to a pursuit of pleasure, always involves a sense of wonder…the erotic dimension of love…must be seen as a gift of God that enriches the relationship of the spouses… (The Joy of Love, art. 151-153).
Marriage Tip: Make sexual intimacy a priority in your marriage.  Talk about what sexual intimacy means for you as spouses (send me an email for a sexual intimacy inventory: robert@catholiclifeministries.org).
Read about sexual intimacy from authors who will respect your Christian perspective on human sexuality.  Secular magazines, like Cosmopolitan and GQ, seem to me to have very little understanding that great sex most often happens within the context of committed love.  Two authors that I like are Gregory Popcak (www.catholiccounselors.com) and Shaunti Feldhahn (Shaunti.com).  Men and women often have different needs around sexual intimacy.  Understanding how these differences specifically apply to your marriage is important.
THREE VERY IMPORTANT ESSENTIALS TO A HEALTHY SEXUAL LIFE: A good night's sleep, a healthy diet with moderate use of alcohol, and exercise!
Please post your comments!
______________________________________
Resources for Marriage
Check out our web site at workonyourmarriage.org.  Take our marriage assessment at: http://www.workonyourmarriage.org/marriage-assessment.html
If you live in the Seattle area and need some help with your marriage go to our counseling page: http://www.workonyourmarriage.org/relationship-success-counseling.html