By Robert Fontana
This is Pentecost week.  Naturally the story of Chicken Little comes to mind:
There was once a great knight riding upon a mighty horse when he came upon Chicken Little running around the countryside shouting, "The sky is falling, the sky is falling."   Suddenly, Chicken Little threw himself to the ground, lay on his back, and thrust his legs and wings towards the sky. 
The great knight leaped from his mighty horse and said to Chicken Little, "Why art thou thus lying in the dust?" Chicken Little calmly responded, "The sky is falling."  The great knight laughed out loud with incredulity and dismay, then said, "And you, little bird, think that you can hold up the sky?" Chicken Little responded, "I does what I can do."
Francis of Assisi once said, "I have done what is mine to do, now you must do what is yours to do."
Fr. Thomas Judge, the founder of the Missionary Cenacle Family (1909) counseled his associates similarly.  I do not have the direct quote but it was something like: "Do what you can do.  Do not worry about what you cannot do, but do what you can do!"
There is so much to be done.  It is mind-boggling.  There are so many pressing needs; truly, it seems the "the sky is falling."  And what I am actually able to do is so small, surely what the great knight said to Chicken Little applies to all of my efforts, "And how can such a little bird hold up the sky?"
Fr. Thomas Judge, a Vincentian priest, felt like the sky was falling as he, an Irish-American from Boston, tried to minister to the throngs of immigrants filling the slums of the great urban centers of 20th century America.  He had an epiphany when he realized that he was taking way too much responsibility for work that was not his to do.  It belonged to the average Catholic (and Christian) in the pew who was a neighbor to these immigrants, who met them at the grocery store, the warehouse, the butcher shop, and sometimes at the parish church.
He realized if each person would simply take responsibility for being a power for good within the relationships and commitments of his or her own life, something he called the "providence of everyday life," then much good could be done to alleviate suffering, strengthen community, and provide care for the least among us, especially poor children and the elderly.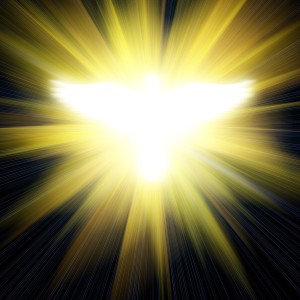 Judge recognized that the needs of families in general, and of the poor in the slums and barrios specifically, were so great, that it was impossible to create a social program to address them all.  However, if Catholics and other Christians were guided by the Holy Spirit, then the Spirit would direct them to the work that needed to be done within the "providence" of their everyday lives.How do we gain the interior freedom from our own shortsightedness and sins to even be able to act in the service of others?  And where do we get that capacity for discernment to determine what we are to do in this situation and that one, where we are to direct our energies, and what we are to leave for others to do?  Our guidance comes from the "breath of God," the indwelling Spirit that draws us into the heart of God, the Spirit written about in John's Gospel.
Lori and I, led by the empowering and indwelling Spirit, have directed out energies towards being a power for good by inspiring deeper faith in God and building strong marriages and families.  We do this through spirituality workshops and reretreats,  marriage enrichment events, marriage preparation classes, family camps, and divorce prevention, if possible, through marriage counseling.  There is so much more "falling sky" that pulls at us – pro-life work, outreach to migrants and refugees, and problems related to homelessness.  All of these important concerns tug at us, they are matters close to our hearts and certainly are within the providence of our everyday lives.  But, at least for now, we hear the Spirit say to us, "Do what I have already given you to do, and leave these concerns for someone else."  This is not easy.  Saying "no" to important issues and leaving them for others to do feels inadequate…unsatisfying…feeble…and yet, the right thing to do.
Sunday, June 4th, is Pentecost, the great feast of the Holy Spirit. All around our world, "the sky is falling;" there is so much to do.  Do you have a personal relationship with this empowering and in-dwelling Spirit so that you can benefit from the Spirit's guidance? Ask and the Holy Spirit will help you to discern what is yours to do within the providence of your everyday life.  Then the power of the Holy Spirit will help you (and me) do it!
Post your comments!
IF YOU LIKE WHAT YOU READ ON THIS BLOG SITE, PLEASE CONSIDER MAKING A DONATION TO SUPPORT THE WORK OF CATHOLIC LIFE MINISTRIES.  OUR MISSION IS TO AWAKEN FAITH, STRENGTHEN MARRIAGES AND FAMILIES, BUILD COMMUNITY, AND EMPOWER THE FAITHFUL TO BE A POWER FOR GOOD IN THE WORLD!  Go to: http://www.catholiclifeministries.org/donate/