By Robert Fontana
Regret is an awful feeling.  I'm meeting with a lot of people who have been on the fast track to American success; and now they are, well, miserable.  Some of these folks seem to have it all – great looking spouses, $1,000,000,000 homes, gifted children – and yet they are about to implode with all the stress building in their bodies over the demands of their work, tensions with those good-looking spouses, and their gifted children who are using their gifts for expensive toys, late-night escapades, and drugs and alcohol.
By certain measures, they have won the "rat race;" but they hate the persons they have become.  I'm not sure if these people would call themselves "rats," but they often call their significant other a "rat" and a lot of other names not suitable for this G-rated column.  If only they could turn back the clock.
I also meet with young adults just starting out in life. Some are living with their love interest and are preparing for marriage now that they have school and their career path settled.  They have entered the "rat race" and are eager to win it.  How are they going to avoid the pitfalls of my older friends who now live with deep regret?
This is what I say to both groups: Are you becoming the person, family, couple that you want to be?  To put it another way: when you turn 75 and your children, family, and/or friends throw you a party, what do you want them to say about you?  If they threw that party for you today, what would they say about you?
You get to create yourself.  Yes, your family history shapes who you are, and your biology gives you certain physical, mental, and emotional parameters.  But your past and/or biology do not totally determine the person you are becoming.  You get to choose that person.  I'm not saying that it is easy to overcome your past especially if there has been abuse and /or addiction in your history. I'm not saying that it is easy to overcome certain biological limitations and challenges.  Still, when all is said and done, you can have a profound influence in shaping the person that you are becoming through the choices you make.  Here are two examples:
Nelson Mandela was a political activist, freedom fighter, and the first black African to be president of South Africa. Mandela spent 25 years in prison because of his work to give black South Africans the basic constitutional rights as full citizens.  He was asked by former President Bill Clinton:  …tell me the truth, when you were walking to freedom the last time, didn't you hate 'em?" He said, "Yes.  Briefly I did. I hated them and I was afraid. I hadn't been free in so long.  And then I realized if I still hated them after I left, they would still have me. I wanted to be free. And so I let it go." He said, "That's what you have to do.  That's what we all have to do.  We have to let it go."
Vincente was a man Lori and I met on El Camino de Santiago.  We first met him as all three of us were walking up a steep gravel path on a rainy day.  As we approached Vincente from behind, we could see that he walked slowly and with limp.  As we got closer we saw that, with one hand, he pulled a small upright basket on wheels. This contained his overnight bag. In his other hand, he held a crutch.  Clearly, he had some paralysis on one side of his body; we assumed he had had a stroke.  We stopped to talk with him; he shared his name, "Vincente," and that he had been walking for 65 days.  He covered about 8-10 kilometers a day (5 – 6 miles) and still had at least 100 kilometers to go to reach the great cathedral of St. James in Santiago, Spain. Once he arrived there, he told us, he would meet his 85-year-old father and together they would take a holiday at the beach.  Vincente radiated joy and refused any offer to help him haul his gear up the hill.  He walked in rain and in 100-degree weather, up and down mountain passes, along some trails clearly meant only for mountain goats! He endured, taking one day at a time.  Vincente did not focus on his limitations.  He focused on what he could do; and he did it.
St. Paul writes (Romans 12:2),
"Do not conform yourselves to this age but be transformed by the renewal of your mind, that you may discern what is the will of God, what is good and pleasing and perfect."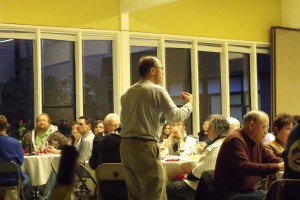 If you are dissatisfied with who you are as a person, as part of a family, and/or in your marriage, you can change!  According to St. Paul, one gets out of the "rat race" through a renewal of the mind.  St. Paul's exhortation coincides with current trends in psychology summarized in this phrase: change the way you think, and you'll change the way you feel and act.  Still the transformation of the mind in Christ does not happen in a vacuum.  It happens through community. Identify the kind of person in Christ which you would like to become and start hanging around and talking with people who have those traits. If some of the issues holding you back are deeply rooted, get professional help.  Or, if you do not know what is hindering your growth, but find yourself in constant tension with the people and commitments of life, get professional help.  Get the help sooner than later.
If your car isn't working right, you know that the longer you wait to take it to a mechanic, the worse it will be.  This is also true with the issues keeping you from becoming the person, family, and/or couple that you would like to be.  The longer you wait to get help, either from good friends or from professional counselors and spiritual directors, the harder it is to make the changes that you want to make.
Still, change is possible.  You have been created in the image of God.  You have been given the gift of free will, not simply to choose what you want to wear today or what you want to eat for supper, but to participate in creating the person that you are becoming.  If you are in the "rat race" and find that you are the "rat," transformation in Christ is possible, no matter how old you are.  And if you are just starting out in life and don't want to even start in on the "rat race," that is possible too.  The choice is yours.
Post your thoughts.
_____________________________________________
Join us for the CLM Spring Retreat: "My Soul Thirsts for God" 
Sunday, April 30, 2017, Peace and Spirituality Center, (St Mary-by-the-Lake) Bellevue, WA
The Catechism of the Catholic Church states that "The desire for God is written on the human heart" (Art 26).  Most people of faith want to draw close to God; we want to know God's love and  presence in a more personal way.  If that is true for you, consider taking time for this day of prayer. This will bee a day of quiet prayer, Scripture reflection, and small-group sharing. Set your    calendars for:
Robert Fontana will be the retreat director.   Robert has presented retreats for families, youth, and adults for over 35 years in Catholic paris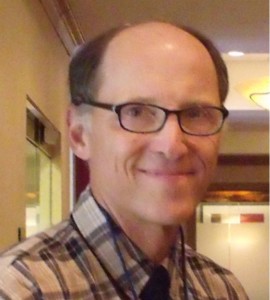 hes and  retreat centers in Washington, Alabama, New Jersey, Montana, Oregon, California, and Texas.  He has also taught internationally in Tanzania, Swaziland, South Africa, Haiti, and Belize, Central America.  Robert has a Doctorate of Ministry and a Masters in Couples and Family Therapy.
Cost: $30 – singles, $50 – couple           Scholarships available!
Time: 9:30 a.m.- 4:30 p.m., Mass at 3:30, with presider Fr. Paul Fitterer, SJ
 To register: You can register online at catholiclifeministries.org.  Look to the column on the right, scroll down to "Register for an event."  You may also mail in the registration fee along with your name, address, phone number, and email if you have one.  Send registration to: CLM, 1827 NE 58th St, #B, Seattle, WA 98105