By Robert Fontana
Jane and John Doe have been married for 12 years.  They have two children, and each has told me that he/she loves his/her spouse.  Yet they are caught in an endless cycle of swearing at one another and yelling variations of, "YOU DON'T LOVE ME ANYMORE.  IF YOU DID YOU WOULD……AND YOU WOULDN'T……"
Jane and John have developed such negative thoughts about each other that no matter what the other says or does, it is interpreted in a negative and suspicious way.  Each has told me, "I'm damned if I do and damned if I don't."  Their marriage is holding together by a thread.
Why did they wait for so long before they came in for help?  Imagine Jane bruising her arm badly in a fall; imagine John, cutting vegetables, getting a deep gash on his hand when the knife slipped.  Neither one goes to Urgent Care for medical care.  Then Jane and John get in an auto accident.  Jane breaks her leg, and John smashes his hand, which reopens the wound made by the knife cut; he begins to bleed profusely.  They still don't go to ER for medical care.  THIS WOULD NEVER HAPPEN!  When we receive an injury to our bodies, we go to the doctor for help.
It seems, however, that when we receive an injury to our marriage, when we are hurting one another over and over again, we work hard to hide it from others, and we often deny it to ourselves.  There is a social stigma about relationship and mental health challenges.  Because these health issues are often seen as shameful, embarrassing, and humiliating, we might not seek help early on, which could keep the problem at a manageable level, reasonably simple to solve.  Jane and John Doe waited until their relationship was crushed by mutual hurt and pain.  The couple was staring at an ugly and brutal divorce as they called me, hoping I could work some magic to get them back on the right track.  Can their marriage be saved?  Yes.  Will they give counseling the time, the hard work, and the patience needed to improve their relationship?  I don't know.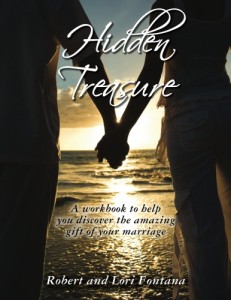 Lent for couples; work on your marriage.  March 1st begins the 40 days of Lent, an ancient season of prayer, fasting, and almsgiving to help each of us break with sin and selfishness.  If you are married, I urge you to use Lent as a time to draw closer to one another in Christ.  If your marriage is going well, strengthen it by trying just one of these suggestions: pray together just a little more; read a faith-based book together; serve the poor together; make a retreat together; buy a copy of Hidden Treasure and do the exercises, intended to strengthen love and friendship (Hidden Treasure, a workbook to help you discover the amazing gift of your marriage, available at amazon.com or barnesandnobles.com).
If you are dissatisfied with some aspects of your marriage or think that you and your spouse do not communicate as well as you should, try a retreat like Marriage Encounter (www.wwme.org), or Retrouvaille (www.retrouvaille.org) or call a marriage counselor for help.  Get help now to work through issues of miscommunication, hurt, and resentment while you and your spouse still like each other and are still friends.  If you wait to get help as a last ditch effort to avoid divorce court, it just may be too late.  At that point, you have one foot out the door and may not have the motivation to do the hard work of rebuilding your marriage.
Pray for Jane and John Doe.  They are teetering on the edge.  With hard work, and the help of God, and the guidance of a competent therapist, I am confident that they can again become for each other a primary source of joy and happiness and minimize their being a source of frustration and unhappiness for each other.  Certainly not all marriages can or should be saved.  But I have read hundreds of case studies and books on marriage and relationship success.  I have not heard of one case in which a couple who has succeeded in working through their difficulties, regrets the hard work of setting their marriage on the right path.
Lent is here.  If you are married, consider drawing on the graces of this season to value and work on your marriage.  Pray daily for your spouse; pray daily for strong, grace-filled marriages, which form the building block of society and of the reign of God!