By Robert Fontana
Ah, the flowers are budding, the sky is clearing, the days are warming, and the Pub owners are opening up their patios for its patrons.  Spring is in the air, that is, in Ireland.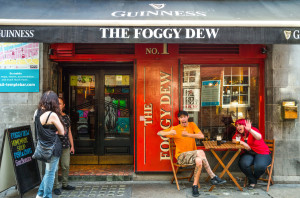 February 1 is celebrated as the first day of spring in Ireland.   Okay, you've visited Ireland.  You know that Ireland is an island in the North Atlanta.  Ireland has two seasons.  Summer with some rain, July thru September; Winter with lots of rain, October thru June (and its cold).  The Irish need a day of hope to get them to St. Patrick's Day in six weeks.  That day is February 1, the first day of Spring and also the Feast of St. Brigid.  Brigid was a fierce lover of Jesus who lived in Ireland at the time of St. Patrick.   We Fontanas become "O'Fontanas" on Feb 1 and mix the two events, first day of Spring and St. Bridgid's Day, for a fun family ritual.  I share that with you below, but first, let me give your a brief story of St. Bridgid.
St. Brigid of Ireland.  St. Patrick baptized Brigid's mother, Brocca.  Brocca was a slave and Brigid was born into slavery.  Not much is known of her childhood, but she was a friend of St. Patrick according to the Book of Armagh which reads:  "Between St. Patrick and Brigid, the pillars of the Irish people, there was so great a friendship of charity that they had but one heart and one mind. Through him and through her Christ performed many great works."
St. Brigid is credited with founding and leading a double monastery, one belonging to women and the other t0 men.  This indicates the prominent role that women played in the formative years of the Irish Church.  Many miracles are credited to her intercessions before and after her death.  She is remembered by her followers in Kildare (Church of the Oak) which was a center for prayer, study and copying of the Scriptures and other ancient writings, and metal work.  The nuns at Kildare maintained a fire symbolizing the divine presence in the world and in the Church from the middle of the 5th century until the Protestant Reformation 1,000 years later.
St. Brigid is credited with creating the "St. Brigid's Cross" made from reeds.  It is said that she was comforting a dying Druid king who asked Brigid to tell him about her God.  She told him the story of Jesus, and as she was doing this, crafted a cross out of reeds, like the one pictured.
St. Brigid is one of the patron saints of Ireland, with St. Patrick and St. Columba, and she is also known as Mary of the Gael.
Here is a prayer and ritual to celebrate both even if you do not live in Ireland and Spring is no where to be seen.
Begin with this Prayer to St. Brigid
Saint Brigid, daughter of Ireland and lover of Jesus, draw us by your prayers into the living flame of God's love.  Help us to clean our hearts and homes of all that is selfish and self-centered. 
Pray that we will be attentive to the poor and spiritually abandoned, that we will practice the Beatitudes in good times and bad, and that the warmth of God's love will animate all that we say and do.
Each member of the home takes a kerchief or handkerchief (could also use a bandana or cloth napkin) in hand and walks through the house dusting the furniture and books, and lamps, etc. singing "Alleluia, alleluia, alleluia."
When the house has been thoroughly dusted, go outside and tie the kerchiefs on the branches of a tree and pray this prayer:
All:  St. Brigid, come this day to our home and hearts, come by the power of God and be our guest.  Help us, dear Brigid, to wipe away the dust of "me, and my, and mine" that we might love others with a selfless heart.  We pray this in the name of Jesus.  Amen.
Our Father…